Band Bio
British dance-rock quintet EMF formed in Cinderford, England in October 1989. All five original members were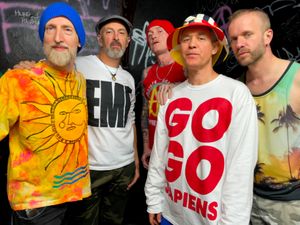 veterans of the local music scene before founding EMF, whose name supposedly stood for "Epsom Mad Funkers" (although it was widely speculated that the initials instead represented "Ecstasy Mother Fuckers"). Within two months of formation, the group played its first gig; after unearthing a Casio sampler and sequencer in a local thrift shop, a light techno element was added to their rock-oriented sound. 
Their debut album, SCHUBERT DIP, was released in May 1991. It was certified platinum (over a million copies sold) in the US in September 1991. It had reached a peak chart position of #3 in the UK and #12 in the US, as well as finishing the year at #57 overall.By the end of 1991, their infectious debut single "Unbelievable" had conquered the charts on both sides of the Atlantic, hitting #1 on the Billboard Hot 100 and #3 in the UK. The single was certified gold (over 500,000 copies sold) in the US in May 1991. The song was in such heavy rotation for most of the year in America, that it finished as the #6 single overall for the year. 
Further hit singles that succeeded "Unbelievable" included "I Believe," "Children" and "Lies." 
In 1992, EMF returned with the Unexplained EP and the much darker full-length effort STIGMA; STIGMA peaked at #19 on the UK charts, and the band toured extensively to promote it. It produced hit singles and EMF live set favorites, "They're Here" and "It's You." 
The band released their final full-length album of new material in 1995 with CHA CHA CHA. After a successful European tour, they teamed up with comics Vic Reeves and Bob Mortimer on a cover of the Monkees' "I'm a Believer," which reached number 2 on the UK charts. 
The band reunited in the summer of 2001 and released a Greatest Hits CD that coincided with a mini European festival and UK tour. The Greatest Hits CD, called THE BEST OF EMF: EPSOM MAD FUNKERS, featured 2 discs: the first had a collection of singles and fan favorite album tracks, along with 2 brand new tracks: "Incredible" and "Let's Go." The second disc had popular remixes. 
The band were primed to write new material and tour more extensively but the sudden passing of bassist Zac Foley on January 2, 2002 shocked the band into silence. The remaining 4 original members spent several years focusing their time on personal projects and their families. 
The band reunited in 2007 and have been steadily doing festivals and live shows in the years since. In 2020, the band released a career-spanning vinyl box set and have spent most of 2020 and 2021 celebrating 30 years of EMF. 
The band surprised fans by telling them that profits from the merchandise sold was being used to record a new album, which will be released in 2022. It will be the first album of all new material since 1995.